Suncor hikes dividend to highest in company's history amid scrutiny from activist investor
Canadian oil giant posts more than threefold increase in profits in the first three months of the year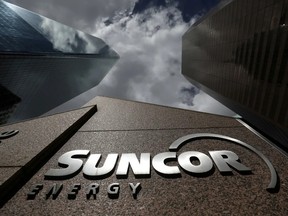 Article content
Suncor Energy Inc announced it will raise its dividend to the highest level in the company's history Monday after posting a more than threefold increase in profits in the first three months of the year.
Article content
Soaring energy prices helped the Calgary-based oilsands producer and refiner to report net earnings of $2.95 billion in the first quarter, compared to $821 million in the same period last year.
Suncor's first-quarter earnings and Annual General Meeting Tuesday come as the company faces intense scrutiny from investors over its financial and operational performance in recent years, spearheaded by prominent activist hedge fund Eilliott Management LP. which penned a public letter urging a shakeup at the company.
Operational shortcomings and safety incidents at Suncor sites — as well as investor annoyance over a substantial cut to Suncor's dividend in 2020 — have galvanized critics of the energy company.
Article content
The oil major announced Monday that it was accelerating plans to increase shareholder returns with a 12 per cent hike to its quarterly dividend to $0.47 cents per share starting in June.
"Safety and operational excellence are foundational to our business and we are continuing to implement changes to strengthen our accountability and performance in these areas," said CEO Mark Little in a release Monday evening.
"We are also sharpening our focus on our base business and areas complementary to our base business, which will drive long-term value for our shareholders."
The company also announced it will explore selling off the entirety of its U.K. asset base, after taking similar steps earlier this year to divest from its non-operated stakes in oil-and-gas fields in the North and Norwegian seas.
Article content
Suncor said in April it was also getting out of the wind and solar business to focus on its core areas, including hydrogen, renewable fuels and low-carbon power.
Energy companies have enjoyed windfall profits this quarter as crude prices have soared amid tight global energy supplies and Russia's invasion of Ukraine.
Suncor's first-quarter profit bonanza came despite posting an overall decrease in production.
The company's total upstream production was 766,100 barrels of oil equivalent per day (boe/d) for the three months ending March 31, down 2.5 per cent compared to 785,900 boe/d last year. Oilsands production was down thanks to weather-related mining challenges, the company said.
More to come …
• Email: [email protected] | Twitter: mpotkins